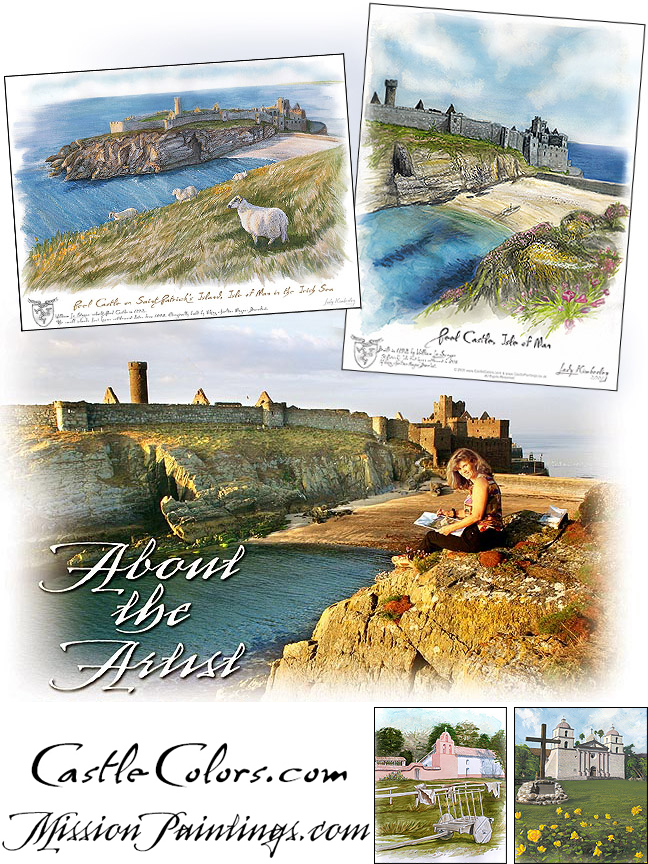 About
Kimberley Reid is a professional freelance graphic artist/designer and illustrator with over 29 years of working, published experience. Her graphic design and illustration portfolios can be seen on these additional sites: Digital-Design-Assoc.com, CastleColors.com and MissionPaintings.com.
Her limited edition prints and original paintings are shown and sold primarily through these on-line galleries and Humboldt gallery, gift shop locations. She has also worked in relief sculpture that captures the color and frenzy of an underwater coral reef and this gallery is called ReefLife. Many of these original works are done per customer request. She is happy to provide an itemized quote, professional references and customer testimonials upon request.
She has enjoyed watercolor painting and other painting mediums for as long as she can remember. At the beginning of her long graphics career she studied fine arts, art history and graphic design at university while working as a graphic designer/illustrator. She can illustrate in many styles and topics as shown in this sites portfolio: technical, architectural, editorial and digital photo composite. This website provides examples of her graphic design services: logos, websites, brochures, catalogs, printed advertising materials and magazine ads.
Her interest in the redwood forests of the Pacific Northwest, euro castle history, ancestral villages and California Missions has led to the development of thesewatercolor painting collections. A defining characteristic of these works is a feeling of space and depth within the picture whereby the viewer is drawn into the painting. In some of her paintings a loose, big-brushed edge pulls the viewer's eye to the painting center to see finest detail. This technique gives a study effect with white edgeroom for calligraphy notes and historical coat of arms sketches. It also gives an interesting white border effect that has a dream feeling. A love of capturing nature, landscapes and history has inspired all her painting collections.
• Contact her for any comments, questions or requesting an estimate.